The Risk of Faith
November 21,1982
On a chilly November Sunday, sixty pioneers joined the Rev. Dr. C. Milton Grannum and Mrs. Hyacinth Grannum at the Manna Bible Institute for New Covenant Church of Philadelphia's (NCCOP's) first service. Rev. Grannum shared his vision to minister to families across the Delaware Valley. Rev. Abraham Fenton shared from Isaiah 43:18-20, " 'Behold I will do a new thing,' says the Lord."
The spiritual and physical pilgrimage of New Covenant Church of Philadelphia began on November 21, 1982. Pastor C. Milton Grannum and Pastor Hyacinth Grannum, Founding Elders Rev. Abraham and Eve Fenton, Dr. Clarence and Ja'ola Walker, along with 60 worshipers gathered on a cold and rainy night in the chapel at the Manna Bible Institute on Church Lane in the Germantown section of Philadelphia, Pennsylvania. As the pioneers sat huddled together warmed only by three gas heaters, a prophetic message came forth through Rev. Abraham Fenton from Isaiah 43:10, "Behold I will do a new thing, saith the Lord, and it shall spring forth speedily." The congregation responded with praise and thanksgiving as they sensed that this baby congregation was being called forth to do great things for God in Philadelphia and beyond.
Purchase of 6400 Ardleigh Street
June 26, 1984
With the purchase of the Ardleigh Street facility in 1984, New Covenant Church finally had a home of its own. Many gave sacrificially to pay off the 30 year mortgage in just 4 years. Worship services at Philadelphia's landmarks, the Civic Center and the Academy of Music, highlighted this period. The late 1980's and early 1990's were characterized by tremendous growth.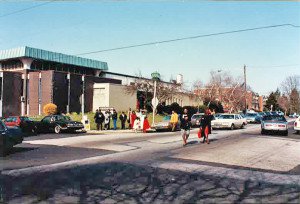 Acquiring of Historic Campus at 7500 Germantown Avenue
May 6, 1993
New Covenant Church of Philadelphia acquired the historic campus at 7500 Germantown Avenue, formerly the Spring Garden College. The late Victorian campus had previously been the home of the Pennsylvania School for the Deaf.