About Bishop C. Milton Grannum Ed.D., D.Min., Ph.D.
Bishop Dr. C. Milton Grannum and his wife, the Rev. Dr. Hyacinth Bobb-Grannum, are the founding pastors of the 1200-member New Covenant Church of Philadelphia, located on the 44-acre New Covenant Campus. The Campus houses several schools, a 56-unit apartment complex for Senior Citizens and a Business Center to challenge, train, motivate and encourage individuals in the areas of professional management and entrepreneurial skills. The Business Center provides office space, consulting, workshops and technical resources through a combination of in-house expertise and a network of community organizations.
Bishop Grannum is an internationally recognized, Bible expositor, trainer of leaders, author and motivational speaker. His international teaching program, Wisdom from the Word, is broadcast daily on the radio in over 60 countries. Bishop Grannum and Dr. Hyacinth Bobb Grannum presently give leadership and oversight to a network of congregations and independent ministries in the United States and overseas.
Bishop Grannum has earned the following academic degrees:
• Master of Arts in Religion with three academic awards from Eastern Baptist Theological Seminary (now Palmer Seminary) in Philadelphia
• Master's degree in Psycho-Educational Processes from Temple University in Philadelphia, PA
• Doctor of Philosophy with honors from Trinity Theological Seminary
• Doctor of Divinity with honors from Trinity Theological Seminary
• Doctorate with honors in Adult Education from Temple University. He was the first student to earn that doctorate with the highest honors in the history of the University.
In addition, he earned academic certificates from both Cambridge and Oxford Universities in England. He is the recipient of several academic and professional awards, including the 1995 National Black MBA's Educator of The Year Award. He is mentioned in the British publication, Who's Who Among International Scholars
He has served in the following capacities:
• Lecturer in the Graduate School of Education of Temple University
• Chaplin of the Philadelphia Goodwill Industries
• Consultant to the Board of Global Ministries of the United Methodist Church
• Consultant for the Partnership Between Religious Organizations and the Philadelphia Public Schools
• Third Vice-President of Black Clergy of Philadelphia and Vicinity
• Missions Instructor at the Delaware Valley Bible School
• Vice-President of the Philadelphia Ministerium
• Consultant for the African American Project of Glaxco SmithKline Inc.
• Member of the Board of Directors of Bay Ridge Christian College in Texas
• Member of the Board of Directors and Graduate Instructor of Faith Theological Seminary in Philadelphia
• Member of the Board of Directors of Pennsylvania Bible Society
• Member of the Executive Council, the Board of Directors and the Cabinet of the Church of God in Anderson, IN
• Member of the Temple University Hospital Community Planning Committee
• Member of the Economic Development Committee of the African-American Chamber of Commerce
Bishop Grannum also serves on the International Leadership Team with Dr. John Maxwell in the training of one million leaders worldwide.
The Grannum's are blessed with one daughter, four sons and four grandsons and one granddaughter.
Bitter Water to Fine Wine: Turning Setbacks into Setups
Do you need a miracle? Let Bishop Grannum's story inspire you to trust God in your bitter waters.
No matter who we are or what stage of life we're in, life is always a little different than we expect it to be. People disappoint, circumstances change, and we're left wondering what God is up to during all of this.
Bishop Milton C. Grannum understands this well. But he's also had experiences that prove God is not absent during these times, but instead, is working in the background to do a great miracle. Using the Wedding in Cana as a starting point, Bishop Grannum shows how Christ can change the bitterest setbacks of life into sweet setups for victory and growth—but only if we let go and give Him full control.
Get your copy of Bishop Grannum's latest book, Bitter Water to Fine Wine: Turning Setbacks into Setups!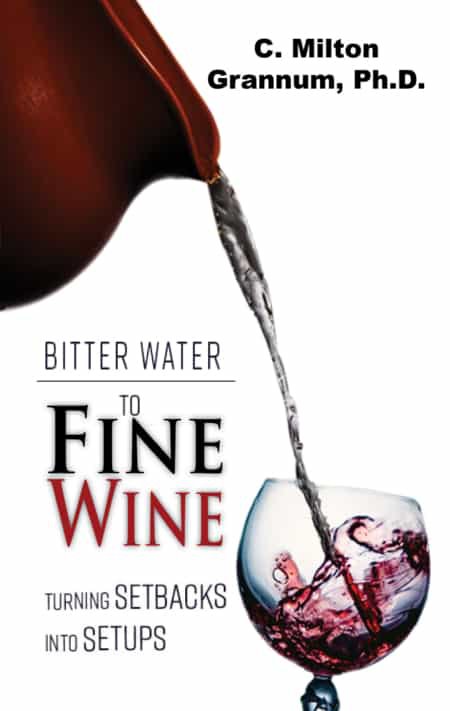 Recent Sermons